One significant benefit of keeping a blog is that, unlike a kitten or a tomato plant, it doesn't actually die if you neglect it. Not that it flourishes either, but at least it doesn't develop abandonment issues and simply stop calling. Or whatever. I've been too busy, blah, blah, blah, to write here lately and what with organising the Filling Station feast and the SALON (LONDON) Secret exhibition, working at my mag job and trying to finish my PhD by the end of September, regularly updating here has sadly been relegated to the bottom of my list of priorities. Thankfully, the lovely art team at Spoonfed have included RoWS on their
top-ten London art bloggers list
and kicked my ass into gear about posting here again.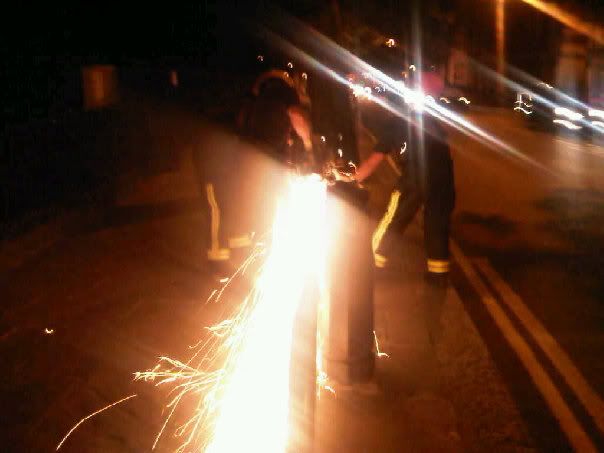 It's funny because a lot of other bloggers I know say they go through periods of not posting because they haven't got anything to write about. This is most definitely not my problem: in the last few weeks I've experienced my first

Fête Nationale in Paris, rocked out at my first party in a fire station,
seen the
Nederlands
Dans Theater TWICE, had my bike rescued by three firemen in a big fire truck, cooed over baby goats at the Lambeth Country Fair, danced my legs off at Lovebox, sipped a Campari and soda on top of Hannah Barry's car park cum sculpture exhibition in Peckham, spent three glorious days at Secret Garden Party, checked out the latest in digital art at the Creators Project, learned about the Complete History of Food with Bompas and Parr, hit up a bowling alley in West London, been mesmerised by Antony Gormley's Breathing Room III at the White Cube, printed my own t-shirt with the super cute Hit + Run boys, seen Toro y Moi jam out all bass-heavy-like, and tasted earl grey and victoria sponge ice cream made with liquid nitrogen. Quite a backlog, right? Right. So, I'll endeavour to get back on a semi-regular posting regime. Especially seeing as this Saturday I'm going to Glyndebourne to see Don Giovanni, followed by the boys' - my mates who run the We Are Not a Rock Band music blog -
summer warehouse party in Hoxton
. Mozart meets electro/disco! Even I don't understand myself sometimes.
To the power of fun.