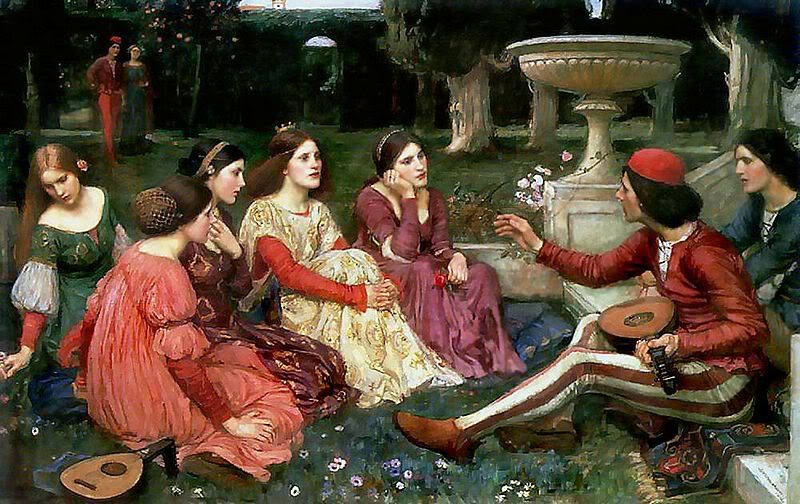 A Tale from the Decameron by J.W. Waterhouse
If there's one good reason why the major public museums ought to stay free, it's so I can pop in for a half hour or so whenever I've got a half hour to spare. Unlike the monumental Louvre, which calls for a more serious approach (at least one glass of wine for every 45 minutes of browsing), the National Gallery's manageable size and free-entry policy means that a once a week breeze through isn't just doable but downright enjoyable.
I know where my favourite pieces are and I know the best routes to get to them – e.g. I always stop off for a woozy sigh of delight in front of the Wilton Diptych before heading round to dally in front of The Arnolfini – but sometimes when I'm whizzing round, I notice a new piece, or at least a piece that I think is new. Yesterday afternoon, I noticed lots of works I hadn't seen before but when I investigated further to see whether there was a list of curatorial changes and rotations to confirm my suspicions, I was greeted with mostly blank stares. "Oh yeah, the curators are in most mornings moving things about here and there," I was told by one friendly information assistant. Not so helpful, then.
Excepting the wonderfully serene feeling I got from wandering through the Sainsbury Wing, the highlight of yesterday's jaunt was a series of three fifteenth-century (1493-4) Italian paintings on the tale of Griselda which were supposedly displayed in a Sienese palace.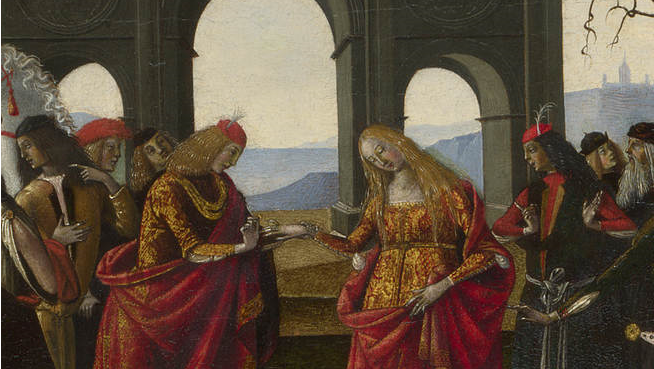 I love the characters in the panels, the nod to Botticelli's women and the peculiar animals set into the foreground. I love the zoom technique where the arch in the first panel becomes the setting for the second and third panels. I love that the viewer is intended to read the paintings as one would read a story – from left to right, with multiple incidents from the narrative occupying the same panel. As with most paintings, the digital reproductions simply don't do them justice.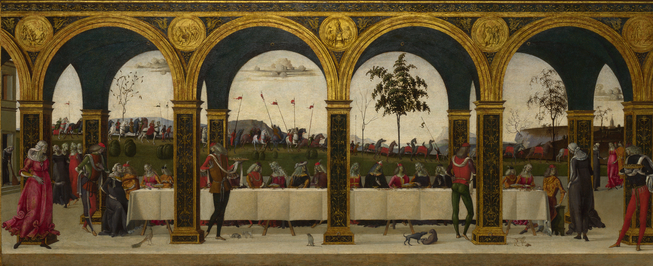 Incidentally, the story of Griselda is rather amusing. If you've read Chaucer's "The Clerk's Tale" it may sound familiar, but I know it from Boccaccio's Decameron (the Decameron is a stonking good read and would make an excellent Christmas present, or if you haven't read it, do yourself a favour a purchase a copy immediately!).
The story goes a little like this: the lovely lady Griselda marries the Marquis of Saluzzo, Gualtieri, who turns out to be quite bonkers. In order to test her wifely devotion, first he declares that both of their children must be put to death and then publicly renounces Griselda for a more noble woman. Little Miss Perfect is wounded by her husband's actions, but patiently accepts his wishes and goes to live with her father. About twelve years later – TWELVE YEARS! – Gualtieri announces that he's got another grande dame and wishes Griselda to return to him as a servant in order to prepare for the wedding. So far, so creepy. Griselda returns only to be introduced to Gualtieri's new bride, a twelve-year old girl. Griselda wishes them both well, at which point, ta da!, Gualtieri reveals that the girl is really their daughter and not his bride-to-be. Gualtieri tells Griselda that the whole thing was one insanely ludicrous plot to find out whether his wife was as faithful as all fourteenth-century wives ought to be. They then live, presumably, happily ever after…