It is a peculiarity of art in the modern world that unless an artist creates a supersized piece in the public realm or has been tagged with the
enfant terrible
epithet, he is not likely to be a household name. And so, not having (yet) done the former or been called the latter,
despite a wonderful retrospective at the Serpentine in 2007-8
, Anthony McCall is shamefully unknown. This will predictably change, given that McCall recently won a commission from the 2012 Cultural Olympiad to construct Projected Column in Liverpool: a 5km-high swirl of steam and cloud rising above the city, visible from Lancaster to Llandudno.
While the spectacle of the column will do much to raise McCall's profile in the UK, this grand public commission will surely struggle to match the sublime works on show in Spruth Magers' recent exhibition of McCall's drawings and vertical works. The Vertical Works - Breath, Breath III, Meeting You Halfway, and You - have been installed in the vast, industrial hangar that is Ambika P3 in London. They are simply incredible: animated line drawings projected onto the floor from 10 metres up result in huge, conical tents of light; shapes that shift and vary in degrees of opacity, sculptures of solid light.
Unexpectedly, the Vertical Works make visible Newton's observation about the nature of light: it isn't actually white but a mixture of colours where each colour corresponds to a particular wavelength. When I pass my hand through McCall's beam or peek the toe of my white shoe under the light, I can see that the fat white line is actually edged with pink and green; a wonderful, if unintentional, detail.
There will be inevitable comparisons with James Turrell and Thierry Dreyfus, and while I'm a keen admirer of both, McCall's work is different. Turrell and Dreyfus use light to transform an existing space; McCall uses light to create space. The difference is remarkable. These are works to look at, of course, but also to interact with. You can move in and out of the structures created by the lights, or run your hand through the lightwall. It's as engaging to observe people interact with the works as it is to observe the works themselves. It seems that McCall's light pieces equally unsettle and fascinate. I'm amused to note that, at the private view, people spend more time looking at the works through their camera phones than through their eyes. Like Sontag's insightful observation that photography is often used as a defence mechanism, I suspect that people feel uncomfortable in the face of the sublime. And so, they take their pictures and leave.
Me, I'm fascinated; completely astonished that light and haze can create spatial definition on this scale. Sitting in the dark looking at the works, I keep coming back to the world of pure mathematics and mathematicians' favourite concept, 'elegant simplicity' – a work need not be complicated to be effective.
The works also act as an exercise in the art of looking, or perceiving, what's present. There's a strange feeling that comes over you the longer you look at the works, a feeling that you can't quite be sure what you're looking at: are the works light or architecture, do they move or are they stationary? Neuroscientist V.S. Ramachandran offers a brilliantly irreverent take on this particular conundrum: 'it is as if each of us is hallucinating all the time and what we call perception involves merely selecting the one hallucination that best matches the current input.'
In some cases, being reminded of how complicated and imprecise the act of looking actually is can be overwhelming, even a bit depressing. But the wonder of McCall's vertical works is that no matter how beautiful the sight of his light sculptures may be, the unsettling feeling of not being quite certain what you're looking at is even more powerful.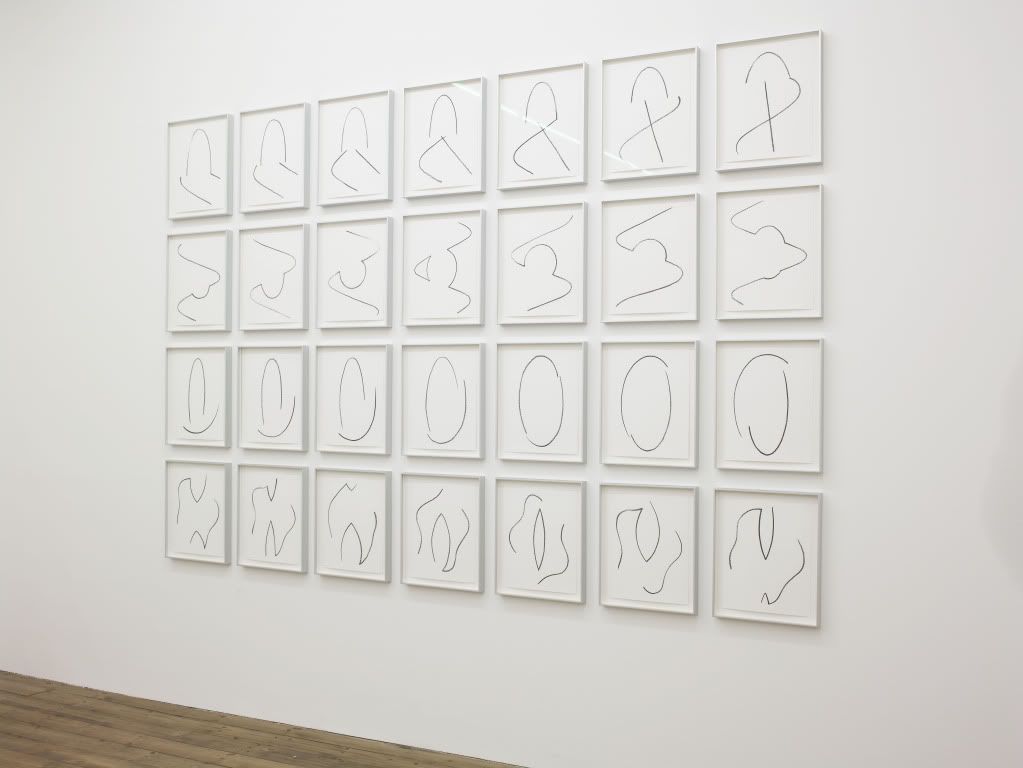 All photos courtesy Spruth Magers or the writer's own.