While you'd be forgiven in thinking that the food as art and design trend is just a flash in the pan to Sunday supplement readers, the projects of Florentine food group, Arabeschi di Latte, are something special, and given that they've been around since 2001 and only seem to be getting (deservedly) more popular, hopefully this is one trend that won't flutter away.
My first introduction to the lovely ladies of di Latte came via another stylish woman, Faye Toogood of Studio Toogood, who brought AdL over for her installation at Tom Dixon's The Dock during the London Design Festival in 2009. While Faye's modernist building blocks were good fun, the pop-up Egg Bar was what really tickled my excited bone: visitors had to choose a recipe card and then prepare the egg and bread, before one of the di Latte's cooked the egg according to your preference. Egg duly cooked, it was added to the rest of the ingredients before being greedily devoured. On the evening of the press preview, after quite a few glasses of champagne, a delicious do-it-yourself poached egg on toast was not only most welcome (there's not enough food around during the London Design Festival), but also incredibly convivial - I found myself chatting to Faye and to other guests, swapping eggy recipes and laughing at the peculiarness of it all.
I eagerly awaited their re-appearance at this year's LDF and once again, the Studio Toogood/Arabeschi di Latte collaboration did not disappoint. Taking over a lovely little space just off Brompton Road (where Libby Sellers beautifully showed Dick van Hoff's furniture the previous year), Toogood set up as a many-fingered forager: there was a mushroom seller, an olfactory installation, lovely little bags made from binocular cases , Toogood's new line of furniture, as well as a Fromagerie-sponsored, Arabeschi di Latte-run cafe. The cafe was enchanting - a perfect blend of Faye's stylist eye and AdL's unique aesthetic approach - but it didn't have quite the same feel as prior projects, primarily because that oh-so-important element of interaction was missing. Well, not necessarily missing, but you had to shell out about £10 for the privilege of purchasing and then cooking some mushrooms. All very good, but part of what makes AdL's projects so wonderful is that they are free, something that seems to encourage greater participation.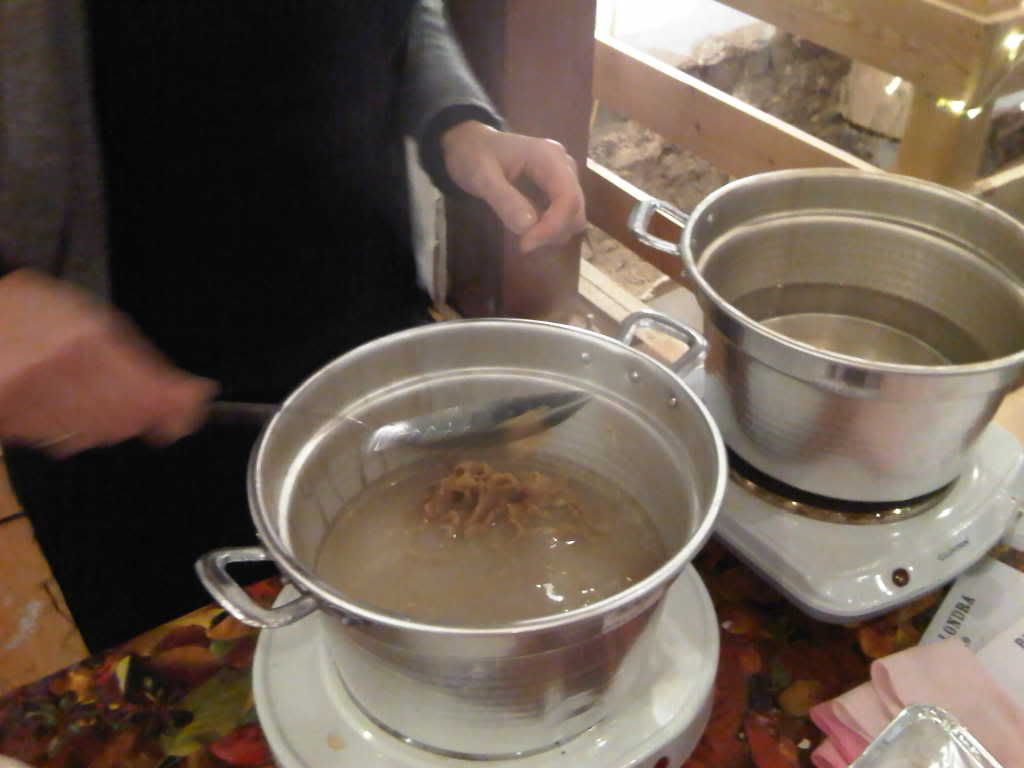 AdL tend to come to London primarily during the Design Festival, so it's nice to see that they're making more trips to London (though given that I'd quite like to carry on doing foody/architecture/design projects, part of me wishes they'd perhaps not have their sights set so stridently on our fair city). Anyway, this latest project was a rework of a pasta bar that recently took place in Tokyo.
You rock up, pull on a sparkly pink apron, pick your recipe from a selection of about eight little cards, and get to work. There's nothing quite like making a big old mess - it's surprisingly satisfying to get your hands dirty but better than gardening or other such nonsense, you get to eat the fruits of your labour once the mess has been made. We were a bit pressed for time and skipped out a couple of steps (leaving the dough to rest for thirty minutes), but the hob-cooked, pesto-drenched, chestnut-flour pasta still tasted quite delicious.
As with all of their other events, I've attended, Arabeschi di Latte are sly experts are creating an atmosphere completely stripped of pretentiousness - largely through the consistent execution of their playful design identity - which means that strangers chat and share tips: use a bit more of this flour, if you roll it that way it works better - and the whole thing feels like a bit of a party. Given the proliferation of experimental foodie design groups, the thing I most love about Arabeschi di Latte is that their events bring people together by making food, not just eating it.