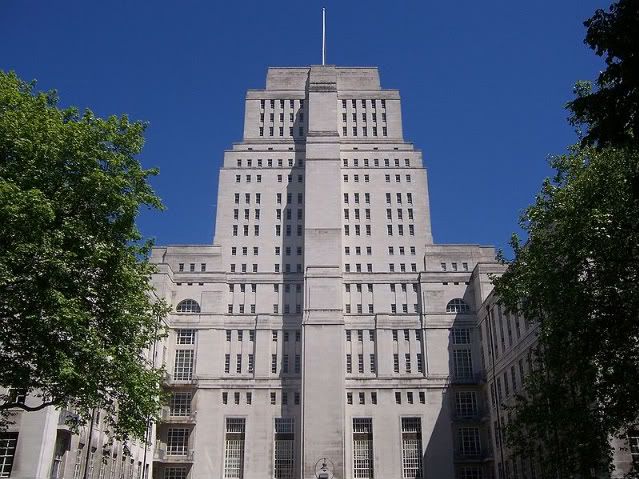 So, last Sunday I was writing up my LFW piece for the AR. Lots of talking about how LFW is finally coming round to exploiting the architecture of London for show venues. This season alone saw the Royal Courts of Justice, Freemasons' Hall, and the Parade Ground at Chelsea College of Art serve as the backdrop for a host of gorgeous dresses. One of the more interesting venues this season was Senate House. Interesting to me anyway as I'm absolutely crazy about Senate House. I think it's a love it or hate it sort of building, but for me it's love all the way. Rather surprising, as Senate House is where I spend an awful lot of time doing research for my PhD, but I'm strangely loyal like that. In an otherwise homogenous part of London, it's gloriously unique. If you haven't been inside, you should go and check it out - the interior spaces are stunning as well. Anyone can access the building and I love that you can walk through it at ground level - there's a beautiful open internal courtyard the connects the North and South Wings - you can walk through from Malet Street to Russell Square Gardens easy like.
Writing my piece, I did a quick Wiki check for construction dates and came across a wonderful quote from the seriously forward thinking Vice-Chancellor, William Beveridge, who pushed for the construction of a new building for the University of London. He raised some dosh from the Rockefeller Foundation and bought back the land that was previously bought and then resold by the government from the Duke of Bedford. Sounds messy.
Anyway, Beveridge had his money and a site to build on, but whoa, did the man have a mission. He saw the University of London as one of global importance, a serious contender to Oxbridge and thought that the UoL should have a new building, one which stated the University's importance through architecture:
"the central symbol of the University on the Bloomsbury site can not fittingly look like an imitation of any other University, it must not be a replica from the Middle Ages. It should be something that could not have been built by any earlier generation than this, and can only be at home in London ... (the building) means a chance to enrich London - to give London at its heart not just more streets and shops ... but a great architectural feature ... an academic island in swirling tides of traffic, a world of learning in a world of affairs."
I'm so impressed by this, especially in light of Rick Trainor at KCL going out of his way to purchase a wing of Somerset House (which I also love, don't get me wrong), instead of having the vision to do something different, say, not fire a whole host of academics.

But that's something else altogether and I've already ranted enough about Trainor and Co.
I guess it's just that it's increasingly rare to hear anyone make this kind of statement about the role of architecture in a community. The opportunity for a building to enrich its city and its community instead of the ego of the architect. Why are

things like

Renzo Piano's atrocious Central St Giles being built

in the middle of town without so much as a fuss

? Do the architects really think these buildings are at home in

or

enriching London?

And I love Beveridge's ambition - he wanted to create a symbol firmly rooted in its time and place - something so of its generation and its city that it would forever symbolise the academic mission of those who created it. What will people say about the London that built Central St Giles and the Strata tower? That we valued electric razors and games of Connect 4? For all the pomp and circumstance of Senate House, it nevertheless remains 'an academic island in swirling tides of traffic', seventy years later. A pretty impressive feat.