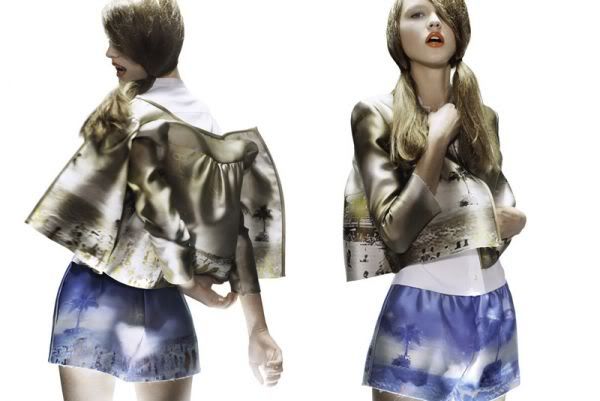 Was flicking through April issue of Vogue on the train up to Edinburgh this weekend when I spotted this ad for the Prada SS10 campaign. The only difference between this pic and the ad is that PRADA appears in nice white lettering and sits halfway down the page on the right image only.
I think it's gorgeous: the prints are divine and you can't really see it in this photo, but the hems are unfinished so there's a raw edge to the skirt and the jacket. I like that such a glam look has an intentionally messy finish to it - bit rock n roll, that.
But it was the styling that most caught my eye. Not all of the images in the campaign are like this, but there's nothing else to see here - gorgeous model, gorgeous clothes - c'est tout. No giant handbag, no jewellery
, no shoes, no sunglasses. It takes a hell of a lot of brand confidence to pull such a thing off, but Prada does it beautifully. I love it.