The Blanch & Shock Lido Cafe Takeover The Second was almost a month ago (eeeeeek), but I wanted to write it up, particularly in light of the fact that a) they're awesome, b) they're bound to be doing something awesome soon that you might want to go to if you haven't been to a B&S event before, and c) my wonderful fiancé (wow, how weird is that!) treated me dinner at Roganic last week and I spent most of the time thinking that the food was a lot like what Blanch and Shock's food would be like if they had their own restaurant, an army of people working for them and a few more years to perfect their technique.
This was the menu for the B & S Lido Dinner:

Kick off with a little treat of plums with homemade marscapone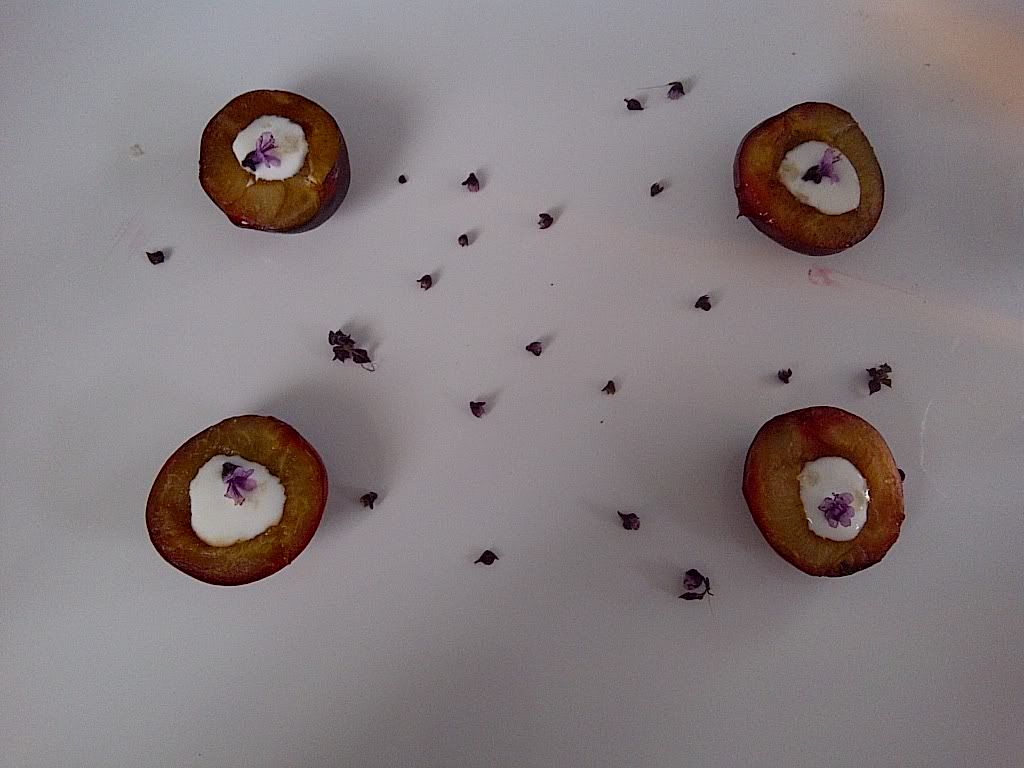 High Easter Sourdough Bread and Homemade Goat's Cream Butter



English Tomatoes - Green Almonds, Quail's Egg, and Homegrown Garlic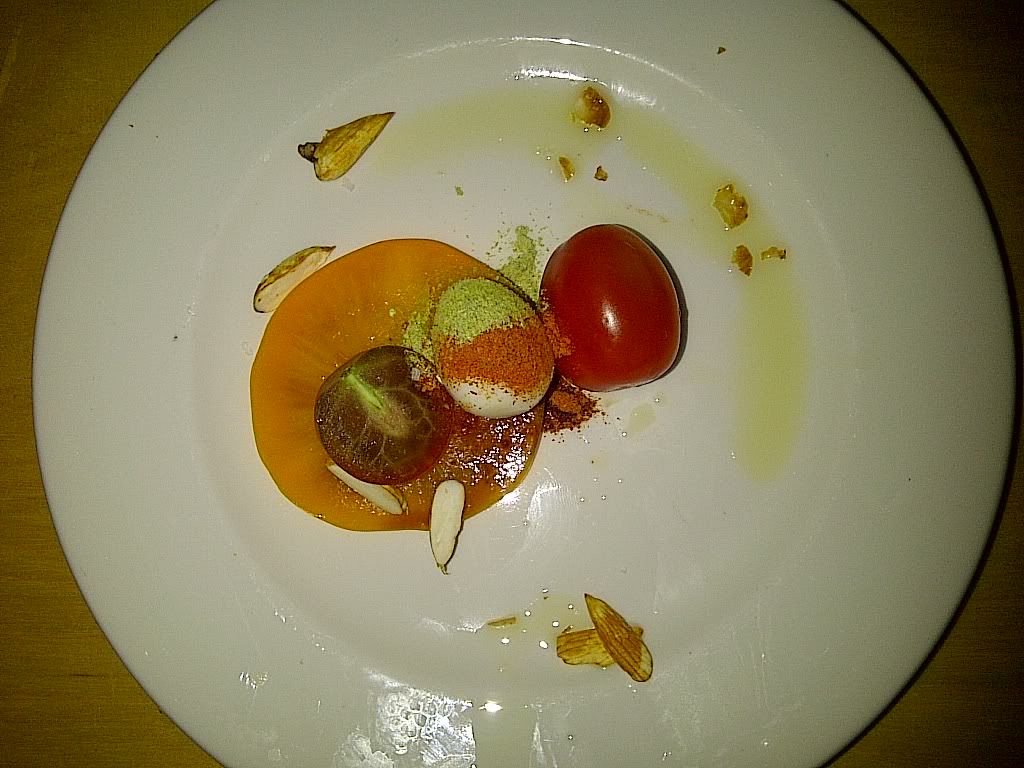 Pig Cheeks - English Peas and their shoots, Summer Savory Vinegar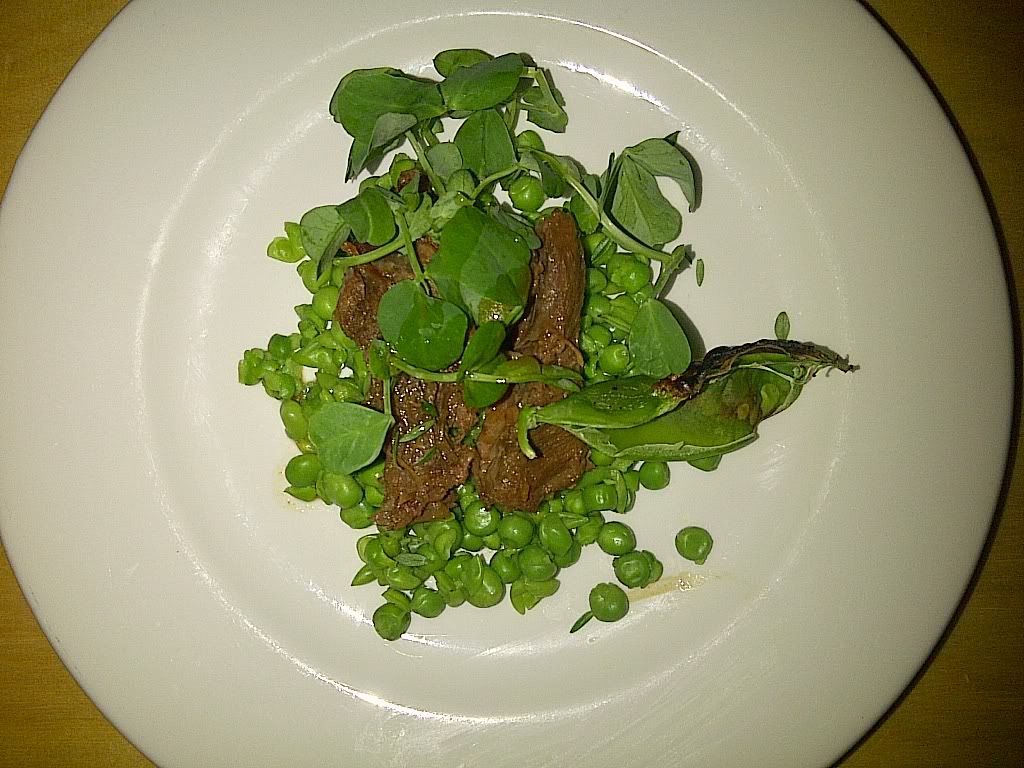 American Signal Crayfish - Brined, and as a broth, with Wild Fennel and Meadowsweet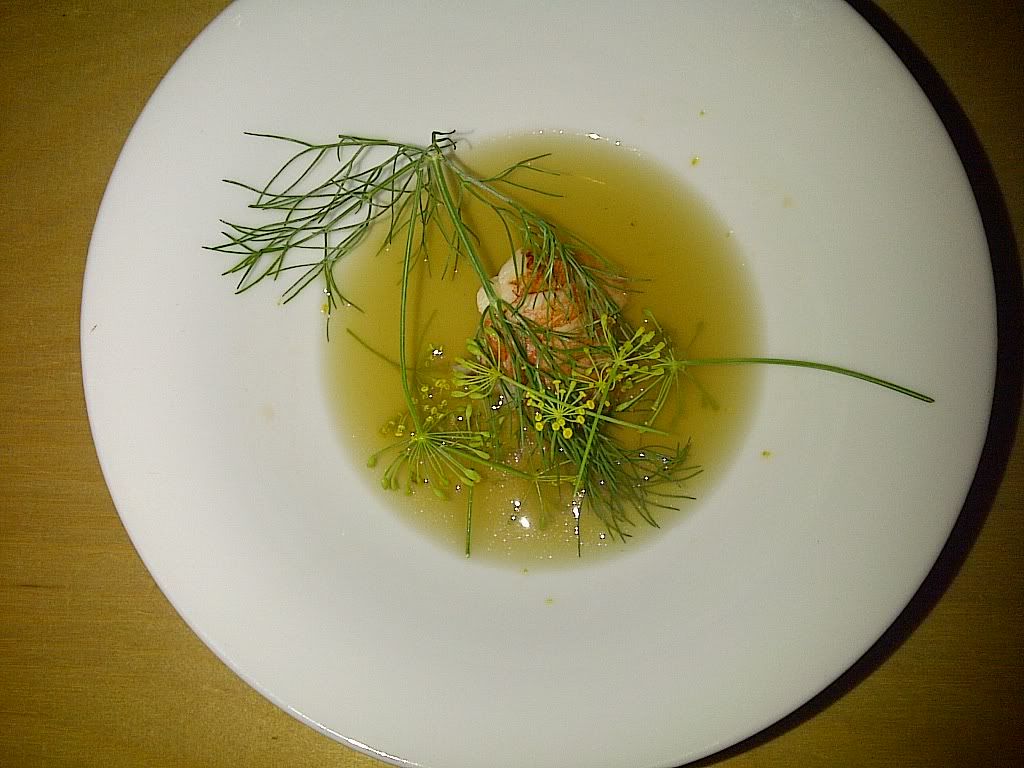 Woodpigeon - New Season's Cherries, Toasted Wheat and Wood Sorrel



Roasted Hay Cream - White Currants, Blackcurrant Sauce and Charcoal Tuile

Coffee + Snacks

I didn't take any photos of the snacks (or pudding) because, luckily, I have a self-ordained special status which means as soon as the coffee + snacks are being prepared I run into the kitchen to chat and gobble up all the leftovers in sight. I do clearly remember that there was a brown butter milkshake, and a delicious sweetcorn soup (that wasn't a snack - Mike set himself the challenge of making something delicious out of one of his least favourite ingredients. How cool is that?).

The food was summery and delicious - the tomatoes were divine. One really should not underestimate the difficulty in sourcing good tomatoes in this country. Though, having said that, at the last Blanch & Shock dinner I met a lady who works at Wild Harvest, a food supplier to a lot of London's swanky restaurants and she told me that you don't have to be a swanky restaurant to order tomatoes - or anything else - from them, so order I shall!

So, Roganic. Simon Rogan's lovely London-based outpost of his Lake District L'Enclume has a two-year lease on a little place on Blandford Street over in Marylebone (just across the street from Purl). Roganic shares a similar foodie ethos with Blanch and Shock: sourcing local ingredients, which often means strange English herbs and plants long since forgotten by the likes of high-street supermarkets; foraging; seasonality; and really good homemade bread and butter.

Service was fantastic and everyone front of house very, very friendly - almost like having dinner in a friend's house. In fact, bar the absolute dickhead sat next to us (who ranted for a good 45 minutes about the sommelier trying to pull the wool over his eyes by serving him a too warmed red), it was one of the most mouth-wateringly delicious, perfectly cooked, well-thought menus I've had the pleasure to eat in a London restaurant in some time.&

There are only two options at Roganic: the 6 course menu or the 10 course menu. Of course, we cheated a bit because we really wanted to try the shredded ox tongue, which was on the 10 course menu, but we asked and they obliged.

Here's what we ate (as illustrated by some terrible photographs!).

Millet Pudding with grains, burnt pear, and Stichelton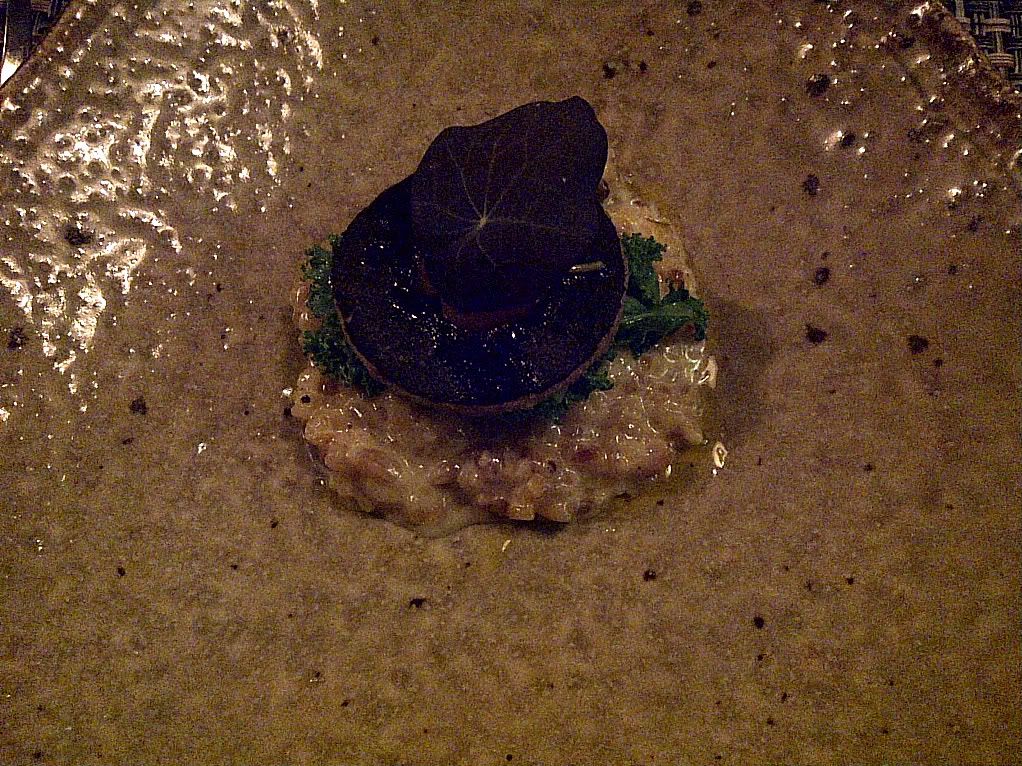 Seawater cured Kentish mackerel, orache, broccoli and warm elderflower honey



Vintage potatoes in onion ashes, lovage and wood sorrel



Shredded ox tongue, pickles and sourdough paper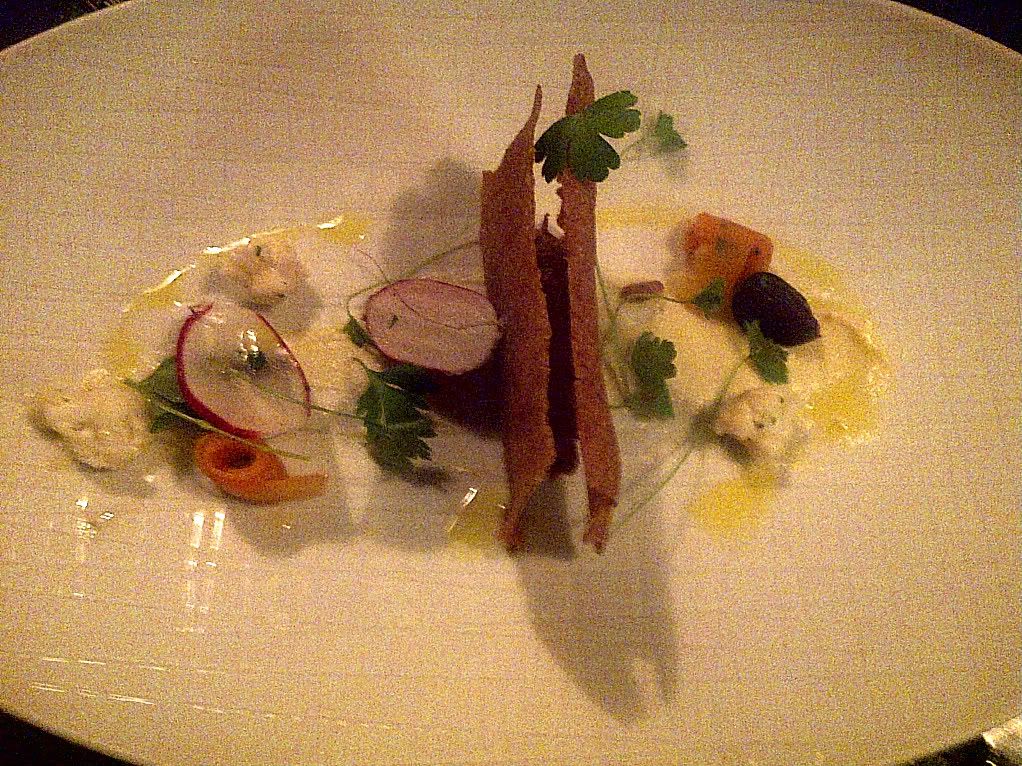 Skate belly, charred leek, carmelised cauliflower, Queenie scallop



Cumbrian hogget, artichokes and chenopodiums (hogget + artichockes = unprecedented levels of deliciousness)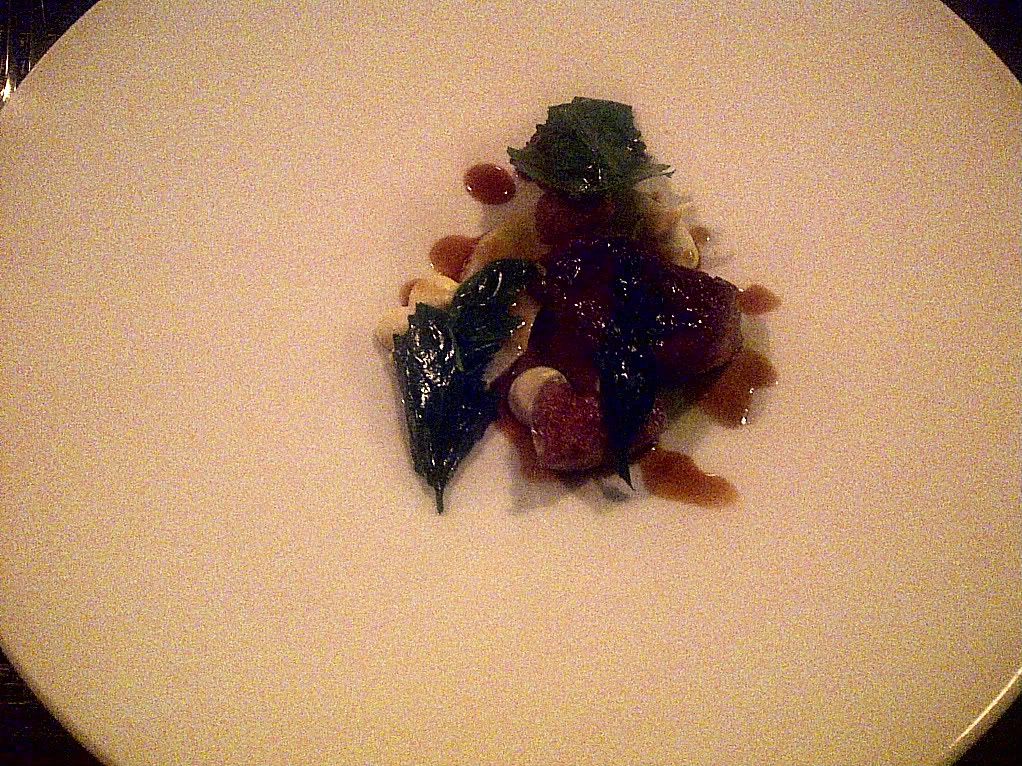 Sweet ciceley with strawberry, buttermilk and verbena - didn't snap a pic of this! below is a douglas fir pine milkshake. Yummy!