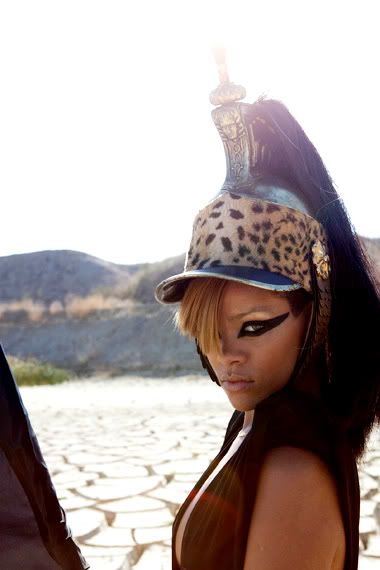 Even though I'm mildly concerned that Rihanna's vision of military dressing would see our soldiers running around sans trousers, I am mildly obsessed with the styling in this video.
What girl doesn't dream of stomping through the desert, kitted out in
Bryce d'Anice Aime and black grease paint, while perfectly-timed explosions create that oh-so dramatic atmosphere? Screw your wind machines: this is proper rock and roll. That black
d'Anice Aime
dress, with the shoulders spiked all to hell, puts Balmain to shame (though it does remind me a little bit of David Koma's a/w10 collection).
And the
Alexandre Vauthier jacket she wears at the beginning of the video? Oh my me love you long time. It's got that Jil Sander, beautifully sculpted quality, but would look rather tedious if worn by a NYC business lady, all Thatcher-esque. It works because of the styling:
garrison cap
, shades, fishnets, boots, granny knickers, cyber purple lipstick. Sexy.
Not so keen on the mickey mouse ears helmet, but I love the bullet bra (where can I get one of those?!) and the pink tank. Who doesn't want a pink tank? Possibly not so good for camouflage, but excellent for a night out in Dalston...