Like any good love affair, my feelings for London are often in flux. Or as Catullus so elegantly put it, odi et amo. Lately there's been a little more odi than amo, which is non-sensical seeing as I've been engaging in some rather, well, engaging activities of late.
Though I'm rather ashamed to admit it, Friday saw me cross the river for my first ever night out in Brixton. It was a little bit of SGP all over again with the amazing Brassroots kicking up an absolute storm. I've never seen people dance like this in Dalston! Bit of an odyssey getting home though, so perhaps not going to make Brixton a regular night out, but nice to do something different nevertheless. Check out the boys doing their thang. Amazing.
We also stopped off at late at Tate Britain before getting down and dirty in Brixton and though we missed (major bummer) Paper Cinema, it was nice to catch Fiona Banner's installation of two fighter jets in the Duveens gallery space.
There's all this blah blah blah about the jets symbolising wild animals trapped within the confines of the gallery, the embodiment of their namesakes. God, I wish art PR people didn't have to superficially embed everything with such overblown significance. How is anyone ever expected to be able to differentiate between acceptable art and great art or even objects and art if curators and PR people are always trying to instill the maximum amount of meaning in every single show? Annoying.
Anyway.
Despite the fact that this is another one of those curse of Duchamp exhibitions, Banner's choices work.
It's nice that they're not in Tate Modern, where you'd expect them to be, and, as objects, they work well: on a purely functional level,
on an aesthetic level – for they are truly exquisite objets d'art – but also, on an emotional level, for there's no denying the pull of such powerful, brutal machines.
This is a perfect example of an exhibition where the, 'yes, but is it art?', question simply doesn't do justice to what's going on here. It's not complicated, but great art doesn't always have to be complicated to be effective.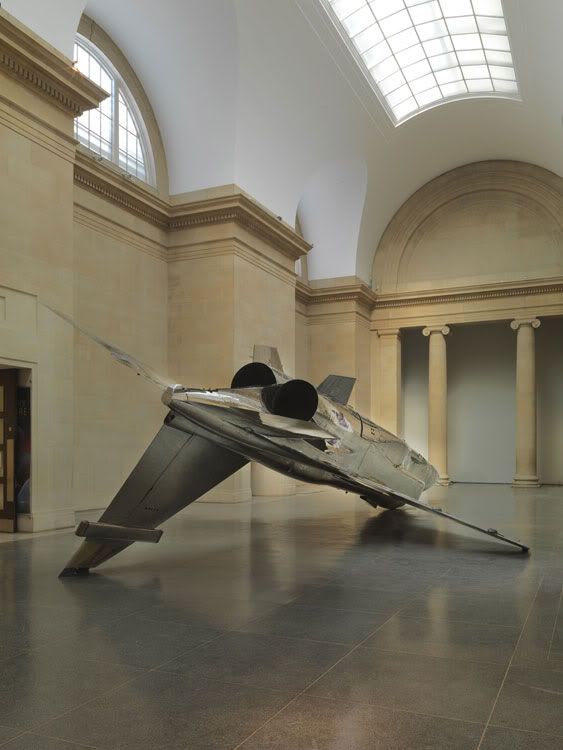 photo credit: Fiona Banner at Tate Britain
Where was I. Oh yes, the festival. Since I came back from Secret Garden Party a few weeks ago things just haven't been the same. Fantasy Land 3 – 0 Real World and all that. Thankfully some nice kids, likely suffering from similar ailments, organised a mini fest in London Fields last weekend.




And a brilliant festival it was. Serious congratulations and felicitations to the organisers for creating such a wonderful environment to let go and play, if only for a single rainy Saturday (apologies for alliteration – don't know what's gotten into me).
Though I missed Young Athletes League (grrrrr), I saw two bands I'd never seen before who were excellent: Black Cherry
and YesKing.
Even though it was properly raining during YesKing's set, we were out at the front of the stage dancing like absolute idiots.
There's something wonderful about a festival with only three stages and so we spent the day skipping (literally) between the main stage, the little main stage and the dance tent.
Good people, good atmosphere, great music. So, so, so pleased they're doing it again next year.
Last, but not least, a quick little plug for a wonderful London project: the Urban Orchard on Union Street in SE1.
The Urban Orchard kicked off construction during the London Festival of Architecture, but it's really taken off as of late.
They're doing late night openings and with a bar and a BBQ every Thursday and Friday until 16 September.
There's also a cycle-powered film screening of Animal Farm this weekend and a harvest party to pick all the fruit and veg on 11 September.
Go South/East/West/North and prosper (you moody bastards).