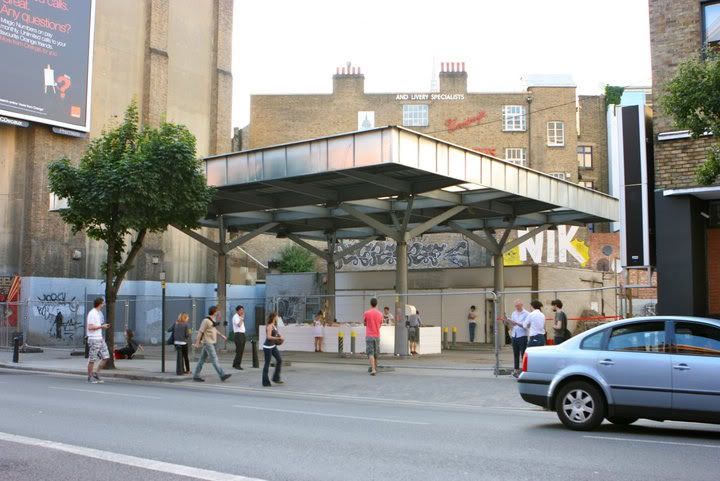 Been wanting to flag this up for a while. Can't believe it was a month ago! Tempus fugit and all that...
Along with my amiga, Nicola Read of 815 Agency, we put on a smashing party (if I do say so myself) to close out this year's London Festival of Architecture. I'd had my eye on the vacant petrol station for well over a year - I live around the corner and pass by nearly once a day - and it took the better part of a few months of solidly pestering the developers before they agreed to let us use the site.
Once we had the site, we had to figure what to do with it. After doing some research into the history of Clerkenwell, we settled on the idea of a large feast with food sourced from local restaurants. After that, it was just a matter of getting everyone on board - thankfully Clerkenwell's restaurants are awesome and everyone was happy to chip in. A huge, huge thanks to Caravan, The Modern Pantry, St John, Hix Oyster and Chop House, Bea's of Bloomsbury, The Ginger Pig, Bompas and Parr, and Chapel Down Wines for their generosity and assistance with the event. Also, an enormous thank you to all of our friends who chipped in (or were dragged, rather) and helped out. Seriously, we couldn't have done it without you.
I'm really pleased with how the whole event turned out, but especially with the table we built - a 10-metre long monster, constructed from 300+ polystyrene boxes (generously sponsored by the British Plastics Federation) - 'twas a thing of beauty.
Though I didn't see it for myself, as I was running around like a frazzled bride on her wedding day, a friend later told me that people were stopping their cars on Clerkenwell Road to take pictures. I don't know about you, but for me, that constitutes a result indeed.
We're already plotting our next event, to be bigger and better, of course. It's all going to kick off in January 2011. Stay tuned, kids.
Full set of images here.