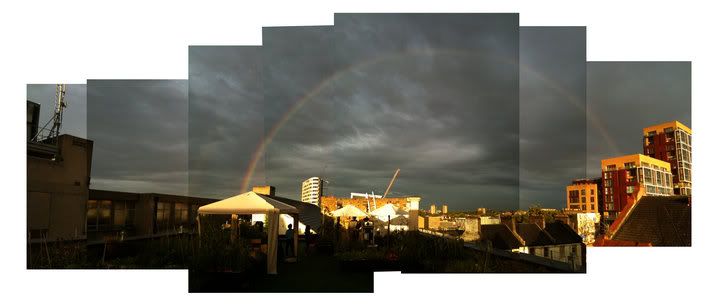 photo of Dalston Roof Garden by Clemens Hackl
This week has sucked a very sour lemon. I'm a doer. I do things. I suck at being patient and when I want something, I go out and get it. When things don't work, I keep at them until they do. I like to think that I can fix everything or make anything work (hence earlier musings on control/perception?), but sometimes there's only so far you can go before that something or someone has to meet you halfway. It absolutely kills me to sit on my hands and do nothing: hence unhappy times.
Thankfully, London is ever so good at diverting one's attention and there are two places I've been meaning to flag up for the benefit of other London-dwelling folk.
Our offices are in Mornington Crescent, a short stroll from Camden and nearly two years of working here has left me feeling more than a little bored with the local food scene. When I heard through the foodie blogging network that the chin chin laboratorists, a nitro-ice cream parlour, was set to open in Camden, I could hardly contain my glee. It's only been open for a few weeks, but I've already been about five times.
The ice cream is made using liquid nitrogen, which means it's made to order right in front of your eyes: you know it's going to be good. For me, though, the best thing is the attitude to flavours and ingredients – the nitro bit is secondary. I've had brown bread and stem ginger, Monmouth coffee, vanilla, and – my absolute favourite – earl grey and victoria sponge cake and they've all been delicious. The home-made sauces and toppings, including parma violet marshmallows, cardamom and pistachio sugar, salty camel sauce, and popping candy are all very appealing, but usually I'm too excited about the lush ice cream to go crazy adding toppings. So whether you're a Camden local or not, if you have even the slightest interest in ice cream (as any concerned citizen ought to), get your ass down to Camden Lock for a bit of something special.
If you want to know what the flavour of the week is before you trek all the way to Camden, keep an eye on their twitter feed: http://twitter.com/chinchinlabs
The other quite special place I've frequented of late is the Bootstrap Company's Dalston Roof Park. The garden's been all over the web, but I didn't know of anyone who had actually been there so I went down for their weekly film night yester eve to check it out for myself. On the roof of the Print House, just off Dalston Lane, the space is brilliant, the views are spectacular and garden is wonderful. Even despite the rain, I wish I would have rocked up a bit earlier to have time for a proper look around. As it was, I arrived as the film was about to start and had just enough time for a good chat with my amiga before the film began. They're running weekly film nights and other events throughout the rest of the summer so check out the site or the facebook page to keep up with happenings. I reckon I'll be spending the rest of the summer here so say hi if you spot me.