This morning I found out that my sweet, bonkers cat, Seven, died. It's difficult to articulate without sounding over the top, but I loved that creature and it's all rather distressing.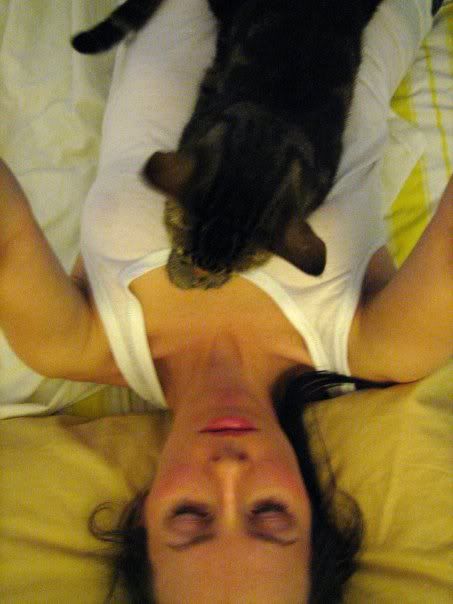 Seven
Even still, these things happen. Without wanting to sound like a Hallmark card, I know it's part of the cycle of things and perfectly natural, but it's still terribly sad. Rather curiously, I wrote most of this post last night and it's all about change.
There's something about the changing of the seasons, but particularly the transition from summer heat to autumnal chill that always brings on a bout of self-reflection, a stock take of the past year. I think it's because I've spent nearly every October of my life starting a new school year so this month, far more than January, always feels like the true beginning of the year, the time to make new goals and assess the progress of previous plans and resolutions.
So. Where am I this October? For the first time in twenty-odd years I am not starting October as a student. On Monday I submitted my thesis to the examinations office so now it's just a few months of waiting while the examiners scribble furiously in red pen throughout the margins and then, after that's done, the viva. Post viva, I shall be Dr. Crystal Bennes and none the wiser for it.

The nicest thing about finishing my thesis is not that I have my life back, for I seem to be busier than ever, but rather that the feeling of work never ending has vanished. Sure, I still have lots to do, but there's no longer the relentless little fairy of academia sitting on my shoulder whispering in my ear that I should be working whenever I'm doing anything that isn't working. I can tell you, it's absolutely liberating.

Other news, other changes: I'm moving. From Clerkenwell. To Hackney Wick. I've spent the better part of the last week and a half freaking out about this, but now I'm rather giddy. I like change. It excites me. New environments spur new thinking and, though I love Clerkenwell, I think the stimulus provided by new people and a new part of London will more than make up for the loss of such a central location and such great restaurants. Plus given Hackney Wick's proximity to the Olympic site, it's going to undergo an interesting metamorphosis over the next few years and being a part of that is bound to be interesting. The only thing I told myself I really couldn't live without was a top-notch breakfasting spot within a ten-minute walk of chez moi. Luckily, the brilliant and delicious Counter is exactly that. Their breakfast is one of the best in London. Make the pilgrimage. You'll thank me.
My new place in Hackney Wick
From breakfast to snack food. Or so it would appear. Ai Weiwei's new installation of 100 million hand-painted ceramic sunflower seeds has just opened in the Turbine Hall of the Tate Modern. Let me waste no time: I don't like it. At all. Given that I tend to loathe most of the TM's blockbuster exhibitions, perhaps this isn't all that surprising, but I loved Miroslaw Balka's aircraft hangar of a blind-man's box and was expecting something equally sensational from Weiwei.

More than that I was expecting something provocative, a statement piece, for lack of a better phrase. Instead what I've been given is a work entirely without context desperately trying to carve out meaning via the artist's reputation. An oceanless beach of sunflower seeds does not a statement make. No doubt the problem lies in the fact that Weiwei is so well known as an agent provocateur, an artist whose work so disturbed the smooth facade of the Chinese government that he was beaten by the police for investigating the student casualties of the Sichuan earthquake. This is not the challenging, affront of a work one expects from such an individual, let alone artist. It is a work with an imposed framework of meaning which supposedly enables the viewer to understand it, but only serves to distract from the fact that there is no significant meaning.
Ai Weiwei's installation in the Tate Modern. photo by Loz Flowers
The sunflower seeds only work when one reads the accompanying text that explains each seed was individually hand painted by artisans in the workshops of Jingdezhen, where imperial porcelainware used to be made, workshops which have become increasingly commercialised. Or that sunflower seeds were the snack-du-jour during the cultural revolution when other foodstuffs were scarce. Conversely, I also don't want to accept the reductive viewpoint that I should enjoy the work as it is: something kind of fun to play in. Perhaps this is unfair, but I expect more from an artist with Weiwei's reputation. This could have, and should have, been an opportunity for both artist and institution - especially given that the Nobel Peace Prize Committee recently proved the threat of poor relations with China wasn't deterrent enough to award the Prize to a Chinese citizen - to create a truly provocative, forceful, and gripping piece of work. 100 million sunflower seeds is not challenging, nor beautiful, nor moving. It's disappointing. Now maybe if those seeds grew into 100 million sunflowers...